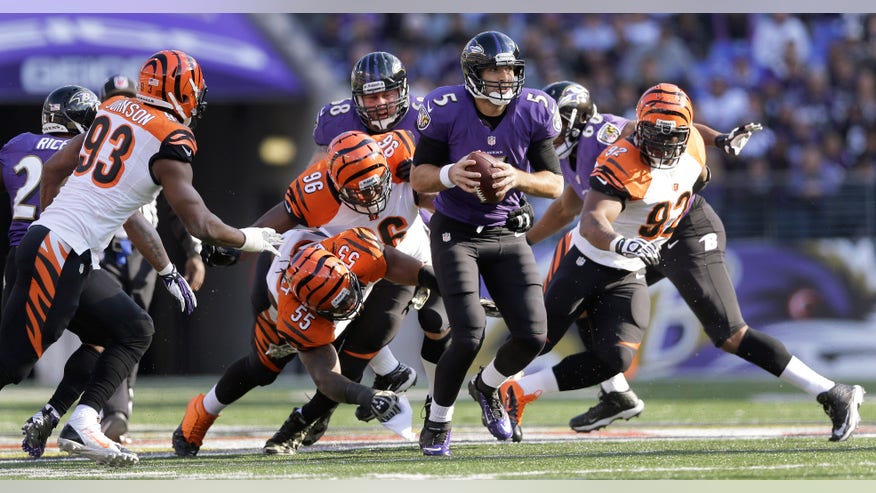 courtesy of Fox
Joe Flacco and his offensive line (O line not pictured)
Well folks, it's that time again. The last meaningful AFC North preseason games have passed us. On September 7th, we finally get the first glimpse of how our teams will back up all of the reasonable and logical predictions each of us has made since those teams were eliminated during the 2013 NFL season.
You know the drill. The completely objective analysis began by breaking down the team's remaining foundation from the eliminated 2013 squad, then continued through months of free agent acquisitions, drafts, trades, releases, injuries, and preseason play to form today's rosy picture (ok, there might be a little homer fluff thrown in as well).  Sure, there are still a few question marks that remain to be answered, but we should at least have an idea of the stable, solid, can't-miss positions on each team come week one.
Don't be so sure of yourself.
Let's take last year, for example. Before (and throughout) the 2013 preseason, I used reasoning and logic to explain that, although the Baltimore Ravens lost eight starters to free agency, trade, or retirement, they would still finish with ten wins and grab a playoff spot. How would this be possible? In part because their defense did not take a big hit, and arguably improved at most positions. However, the main reason for optimism was due to the fact that the most stable part of the team was mostly intact, and as deep as it had been in some time. I am of course talking about the Ravens' offensive line. In addition, I may have mentioned that the running back combination of Ray Rice and Bernard Pierce would be a major force, taking pressure off of quarterback Joe Flacco and his mostly no-named and geriatric group of receivers and tight ends. Although I could plead homer insanity, I wasn't alone with this analysis. Many had similar opinions of varying degrees. Fast-forward to season's end; the Ravens' offensive line and running backs were the butt of NFL jokes, and the Ravens struggled to finish eight and eight.
I singled out the Ravens offensive line and running backs because the differences between expectations and results were the two most dramatic misses within the division in 2013. There were a few other examples within the AFCN like the Steelers' run defense, the Browns' running attack and second half defensive collapse, and the Bengals…well actually most seemed to peg them as a team of units with great potential, but would be inconsistent and would ultimately underachieve. That's precisely what they delivered.
So with that said, lets shout a big "good luck" to those who have absolute confidence that your team's strengths are set in stone. I'm sure your logic is much more accurate than those crazy so-called experts who got things wrong last year. There is no need to worry. The 2014 Browns defensive backs, the Bengals defensive line, and the Steelers and Ravens linebackers should be just fine as you predicted.